John Deere, Hitachi End Joint Venture
John Deere announced it has agreed with Hitachi Construction Machinery to end the Deere-Hitachi joint venture manufacturing and marketing agreements. John Deere and Hitachi will enter into new license and supply agreements, which will enable John Deere to continue to source, manufacture and distribute the current lineup of Deere-branded excavators in the Americas.
As a result of the new agreements, the following changes will go into effect on February 28, 2022:
— John Deere will acquire the Deere-Hitachi joint-venture factories in Kernersville, NC; Indaiatuba, Brazil; and Langley, BC, Can.
— John Deere will continue to manufacture Deere-branded construction and forestry excavators currently produced at the three Deere-Hitachi factories. These locations will discontinue production of Hitachi-branded excavators. John Deere will continue to offer a full portfolio of excavators through a supply agreement with Hitachi.
— John Deere's marketing arrangement for Hitachi-branded construction excavators and mining equipment in the Americas will end; Hitachi will assume distribution and support for these products.
"For many years John Deere and Hitachi enjoyed a mutually successful partnership in the Americas," comments John Stone, president, John Deere Construction & Forestry Div. and Power Systems. "As we turn the page to a new chapter of Deere-designed excavators, we remain committed to supporting our customers of today and tomorrow."
John Deere and Hitachi began a supply relationship in the early 1960s; then in 1988 the companies started the Deere-Hitachi manufacturing joint venture to produce excavators in Kernersville. In 1998, Deere-Hitachi expanded the relationship to include the production of forestry swing machines at Deere-Hitachi Specialty Products in Langley. In 2001, John Deere and Hitachi combined their marketing and distribution efforts in the Americas. In 2011, excavator manufacturing was expanded with the addition of the Deere-Hitachi Brazil factory in Indaiatuba.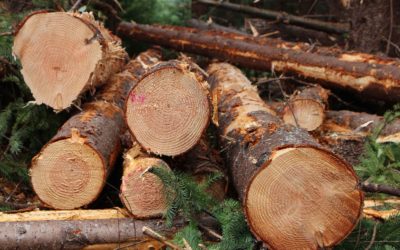 The University of Idaho is working with Idaho loggers to help develop forest industry employees by offering a new two-year degree program: an associates degree in Forest Operations and Technology. According to Idaho Forest Products Commission Director Jennifer Okerlund, offering the degree responds to forest industry officials in the state and provides a direct route to employment for those who are interested in the industry. "This is not a foresters…
read more
Spanning seven decades since its inception in 1952, Timber Harvesting highlights innovative and successful logging operations across the U.S. and around the world. Timber Harvesting also emphasizes new technology and provides the best marketing vehicle for the industry's suppliers to reach the largest number of loggers in North America and beyond.