Equipment, Repairs, Employees Lead Internet Use
Responding to the 2023 Timber Harvesting magazine Logger Survey, 70% of loggers from around the country say buying and selling equipment is their most likely use of the internet and social media in their businesses. The next most popular use is learning how other loggers and truckers resolve mechanical issues, say 40% of loggers. Not surprisingly, finding employees is the third-most popular use, cited by 30% of loggers.
Other top uses by loggers include finding timber to harvest (22%), educating the public about logging and forestry (21%), and showing examples of your work (19%).
Compared to just four years ago, this year's results show much higher usage rates. For example, in 2019 only 8% of loggers said they used the internet to find employees, and while only 9% said they used it to find timber to harvest.
Judging by the number of loggers who skipped the question in 2023 and the 7% who answered "other," there's evidently a stubborn minority continuing to avoid the internet and computers in general. The best comment? "You cannot run a competitive business without knowledge of the electronic age. No longer should a contractor say, 'I hate or don't understand a computer.' From bidding sales to mapping and bookkeeping, you have to use the internet. You cannot just say, 'I leave that to my wife.'"
Learn more about loggers and the internet, top logger challenges, business outlook and much more in the full 2023 Logger Survey Report in the July-August issue of Timber Harvesting.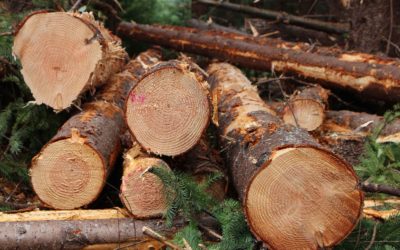 West Fraser Timber Co. Ltd. and Atlas Holdings have announced the signing of a definitive agreement for the sale of West Fraser's Quesnel River Pulp mill in Quesnel, British Columbia and its Slave Lake Pulp mill in Slave Lake, Alberta to Atlas. Atlas owns and operates several pulp, paper and wood products businesses in Canada and the U.S. The agreement includes related woodlands operations and timber holdings in Alberta and a long-term fiber supply agreement for the Quesnel facility…
read more
Spanning seven decades since its inception in 1952, Timber Harvesting highlights innovative and successful logging operations across the U.S. and around the world. Timber Harvesting also emphasizes new technology and provides the best marketing vehicle for the industry's suppliers to reach the largest number of loggers in North America and beyond.