Fire Focus Leaves Forests To Burn
Large wildfires throughout Siberia are being left to burn as Russia focuses its resources on the war in Ukraine. Russia had a record-setting fire year in 2021, and 2022 is starting out at the same pace as fire season has arrived in Russia several months early. Extremely dry and warm spring conditions and high winds are creating major fire hazards as powerlines are going down and sparking hundreds of fires across the region. In more populated regions of southern and central Siberia, dozens have been hurt and killed from fires.
In Russia, local groups fight fires with assistance from the Russian military following requests from local government officials. But this year, observers say, local officials aren't making requests, and those requests that have been submitted are being ignored as the Russian government focuses personnel and equipment on the Ukraine War. Weather conditions have been so extreme that air-borne firefighting with water and retardant drops has been unavailable as well. Officials are worried since firefighting resources are always stretched thin, even in "normal" fire seasons.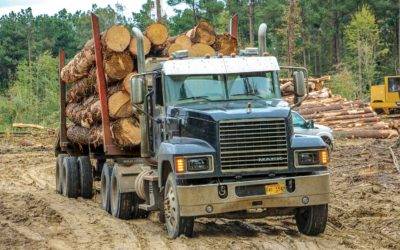 U.S. Forest Service reported it sold 2.87 billion BF of timber sales (compared to the agency target of 4 billion BF) in fiscal 2021, a decrease from 3.2 billion BF in FY 2020, according to the agency's Fiscal Year 2023 Budget Justification document. The sold volume was valued at $197 million. The decrease in sales was primarily due to limited staff capacity and no-bid…
read more
Spanning seven decades since its inception in 1952, Timber Harvesting highlights innovative and successful logging operations across the U.S. and around the world. Timber Harvesting also emphasizes new technology and provides the best marketing vehicle for the industry's suppliers to reach the largest number of loggers in North America and beyond.