Loggers Making An Impact, Moving The Needle On Issues
While pulling together and working on this issue, which includes contributions from Associated Oregon Loggers Safety Manager David Grim and Ray Higgins of the Minnesota Timber Producers Assn., it hit me how many good people there are across the country and in this industry working to improve the prospects of logging contractors.
Then I saw the news item about Idaho loggers visiting their state capital, and the new American Loggers Council "As We See It" came in that detailed the recent Fly-In to work with federal officials in Washington, DC, and the depth and breadth of the collective effort becomes even clearer. Hey, we'd love to have sweeping national pro-logger policies come to fruition overnight, but we're also just as happy to see logger interests worked out and promoted at the state and local level—and the cool thing is there are hundreds, maybe thousands across the country working to make it happen.
Working with Timber Harvesting, America's only national logging magazine, I do my best to highlight loggers' efforts both big and small: Everything from mucking around with U.S. Senators in Washington, DC to working out a county roads issue that's affecting efficiency. It's always tough knowing there's never enough room to highlight them all.
A couple months ago, the American Loggers Council hosted its first DC Congressional Fly-In in four years following cancellations due to the pandemic and ALC's change in leadership. This year's Fly-In was the first since 2019 and the first under Executive Director Scott Dane. ALC brought together 75 timber industry representatives from 21 states and conducted nearly 100 meetings with members of the U.S. Congress.
Events included a Congressional Reception at the iconic Willard Hotel, where ALC's DC office is located. Five Congressman—LaMalfa (CA), Westerman (AR), Collins (GA), Bergman (MI), Golden (ME)—and two Senators—Baldwin (WI) and Hyde- Smith (MS)—attended. Congressman Golden and Westerman were presented the inaugural ALC Congressional Leadership Award for the House of Representatives and Senators Collins (ME) and Baldwin (WI) were the recipients for the Senate.
Additional Congressional staff from other offices attended the reception along with representatives of the United States Forest Service, John Deere, and the Biomass Power Assn. The Reception was sponsored by ALC Gold and Platinum Members (Tigercat, International Truck, John Deere, Cat, Southern Loggers Cooperative, Fuel & Resources, Morbark, Bitco Insurance Companies, Bandit, and Ponsse) with specific portions also sponsored by International Truck, International Union of Operating Engineers, the Louisiana Loggers Assn., the Louisiana Logging Council, Southern Loggers Cooperative, Walsh Timber, the Great Lakes Timber Professionals Assn., the Associated California Loggers, and the Professional Logging Contractors of Maine.
The day on the Hill saw timber industry representatives from Louisiana, Maine, New York, Pennsylvania, Rhode Island, Vermont, Connecticut, New Hampshire, South Carolina, Florida, Georgia, Virginia, Alabama, Mississippi, California, Michigan, Wisconsin, Minnesota, Idaho, Oregon, and Maryland meet directly with their respective state Congressional Representatives and their staffs. These industry representatives left their logging operations in the woods to bring the U.S. timber industry's voice to the halls of Congress and the White House.
Paper Market Woes
East Coast paper markets have been jolted this spring with closures at major wood-consuming facilities in Maine and North Carolina.
Already hard hit by pandemic issues, lack of fiber log markets and a tough winter with lots of weather-related downtime, loggers in Maine took another lick after Nine Dragons announced an indefinite downtime at its Old Town, Maine, pulp mill claiming rising fiber and energy costs and an eventual evaluation for "a potential restart."
Professional Logging Contractors of Maine Executive Director Dana Doran said, "Since 2020 we've seen a 30% reduction in logging contractors. The markets aren't there; wood prices are depressed; and there's inflation. The contractors have had enough."
Meanwhile, farther south mid Atlantic loggers were rocked by the announcement that the Pactiv Evergreen Canton Paper Mill, which has operated more than 100 years, is closing. The facility consumed about 1.5 million tons a year, roughly 50-50 hardwood and softwood.
The closure affects 1,100 direct mill jobs and many more in other companies that worked with the mill. According to a report in the Fastmarket RISI North American Woodfiber & Biomass Markets newsletter, the Canton closure is one of seven uncoated paper machine or mill closures since 2020.
North Carolina state officials also say that closing the Canton plant would be a "clear breach" of a $12 million economic development agreement with the Department of Commerce. The breach would require full repayment of money that was paid to Pactiv Evergreen from 2015-2021.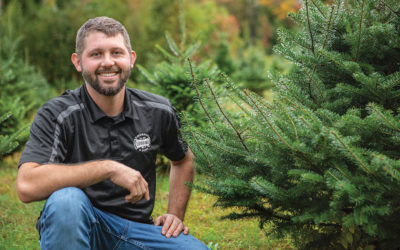 Zach Emerson, co-owner of Emerson & Sons Logging of Groton, Vt., always wanted to grow Christmas trees. Then in 2016, he learned he and his wife, Tracy, were expecting their first child, a daughter to be named Riley. "So that spring I decided it would be a great time to plant some bare-root balsam fir trees," he remembers…
read more
Spanning seven decades since its inception in 1952, Timber Harvesting highlights innovative and successful logging operations across the U.S. and around the world. Timber Harvesting also emphasizes new technology and provides the best marketing vehicle for the industry's suppliers to reach the largest number of loggers in North America and beyond.