New Mexico Gains New Sawmill Venture
Northern California's Lance Forest Products is relocating a sawmill from Redding to Cimarron, NM with the help of a $350,000 investment from the state Economic Development Department.
Lance Forest Products executives have developed logging and thinning agreements with ranches in the northern New Mexico region, and state officials are hoping additional thinning in the area will help reduce the risk of catastrophic wildfires such as the Ute Park blaze that burned 36,000 acres in and around Philmont Ranch in 2018, forced evacuations of Ute and Cimarron and destroyed 14 buildings. Company officials are looking for 40 employees to staff the operation, and state officials are hoping the move will revitalize the forest restoration economy in the area, provide needed jobs and improve forest health.
The Village of Cimarron also plans to develop an industrial park around the new sawmill to serve businesses that can use wood products for furniture and pellets. Lance Forest Products officials say they plan on relocating more than $1.2 million in machinery from California to New Mexico and hope to begin operations in mid 2020.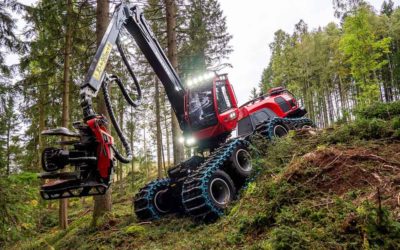 The new Komatsu 951XC, is an eight-wheeled harvester that combines tried and tested innovations with new solutions, and the third addition to Komatsu's eight-wheeled harvester range. The Komatsu 951XC is optimized for use with the Komatsu C164—a harvester head specially designed for logging large trees. Thanks to the eight-wheel design, the 951XC delivers…
read more
Spanning seven decades since its inception in 1952, Timber Harvesting highlights innovative and successful logging operations across the U.S. and around the world. Timber Harvesting also emphasizes new technology and provides the best marketing vehicle for the industry's suppliers to reach the largest number of loggers in North America and beyond.