OLC 2023 Offers Plenty To See, Do
Despite inclement weather that reduced student tours and attendance the first two days, the 85th Annual Oregon Logging Conference (OLC) did not disappoint, says OLC Conference Manager Rikki Wellman, adding that registration was up this year and there were more displays including several first-time exhibitors.
"The icy weather caused only minor challenges for those planning to attend," Wellman said. "Many still came out to review the latest technology in logging equipment."
Overall, pre-registered attendance was up 18% and exhibitor participation was up 17% over last year, Wellman said. As the weather improved during the OLC, so did attendance, especially on the final day of the Conference, which is Family Day, and also open to the public with no admission charge.
According to OLC President Craig Olson, this year's theme reflected the importance of the forest products industry, from keynote speaker Travis Joseph, president of the American Forest Resource Council, to the many panels and seminars that all touched on topics impacting the forest products industry, the importance of forests and the products that are provided.
During his keynote, Joseph said he and his organization need help telling the truth about logging and the wood products industry.
He called it a big lie, the concept of logger versus environmentalist, with loggers destroying the forest and only it for the money and environmentalists protecting the forests and saving the planet. Not only a lie, Joseph said, but a perception with dangerous implications for communities, forests and the future.
"You are the people who provide all the products, materials, and services we all depend on every day of our lives," Joseph told the gathering, and added, "We have to stop letting ourselves be bullied about environmentalism."
Seminars and panel discussions at the OLC allowed many of those attending to earn Professional Logger credits to stay certified and up to date on several issues. Topics addressed included working with a new generation workforce, succession planning, new forestry and forest equipment technology, making a political impact and updates to the Washington and Oregon forest practices laws.
According to Wellman, "The Oregon Logging Conference was packed with opportunities for forestry and natural resource professionals to network and learn more about their trades."
Desserts for Dreams Luncheon: More than $15,000 was raised at this event for the Wildland Firefighter Foundation, which provides support for families who have lost loved ones fighting wildland fires. The Foundation was established after the loss of 14 firefighters in 1994 at Storm King Mountain in the South Canyon Fire in Colorado.
Two Guess the Net Scale Winners: This Year, along with the traditional guess the net scale load of large sawlogs, there was also a load of chip and saw logs testing guessers' scaling abilities. The two winners who each received a $250 Cabela's gift card are:

Jay Messerle of Messerle & Sons Logging in Coos Bay was the winner with his guess of 2,920 board feet for the load of chip and saw logs. The actual scale was 2,910 feet. Thanks to small log sponsors Jacob Steensen and Southport Lumber, Sierra Pacific Industries, and Terry and Louis Mann, L & L Inc.
Mike Edwards of the road building engineering department at Lone Rock Timber has the closest guess for the net scale of the large sawlogs. The 4-log load had an actual scale of 8,040 feet and Edwards' guess was 8,050 feet. Thanks to sponsors Derek Lee and Swanson Brothers Lumber Co. and Leonard Maser Trucking.

Oregon Women in Timber Dinner/Auction: The Talk About Trees dinner/auction was a huge success with a sellout crowd of 480 people in attendance. The dinner/auction's gross proceeds of over $150,000 will help support OWIT's Talk About Trees forest education program, which is offered free to pre-Kindergarten through 8th grade students.
2024 OLC Dates Set: Looking ahead to next year, plan to attend the OLC February 22-24, 2024 at the Lane Event Center and Fairgrounds in Eugene, Ore. Call 541-686-9191; visit oregonloggingconference.com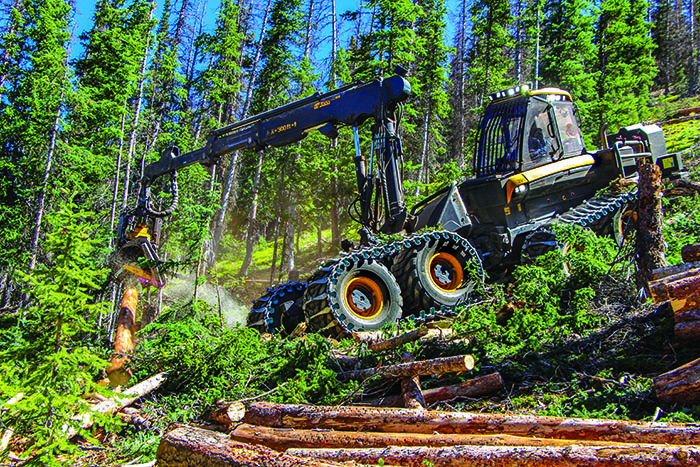 The new ERP solution has already been successfully implemented in Ponsse's Swedish and Norwegian subsidiaries. Particular attention has been paid to the user experience, and all functions can be used anywhere in the world, with any device. The new ERP solution is being used for a number of things, such as material and stock management, procurement, sales, deliveries, field work control and maintenance, invoicing, and financial management and reporting. The ERP solution will also be used for aftersales processes, such as spare parts sales and maintenance…
read more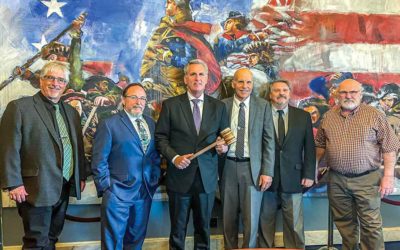 While pulling together and working on this issue, which includes contributions from Associated Oregon Loggers Safety Manager David Grim and Ray Higgins of the Minnesota Timber Producers Assn., it hit me how many good people there are across the country and in this industry working to improve the prospects of logging contractors. Then I saw the news item about Idaho loggers visiting their state capital, and the new American Loggers Council "As We See It" came in that detailed the recent Fly-In to work with…
read more
Spanning seven decades since its inception in 1952, Timber Harvesting highlights innovative and successful logging operations across the U.S. and around the world. Timber Harvesting also emphasizes new technology and provides the best marketing vehicle for the industry's suppliers to reach the largest number of loggers in North America and beyond.