Oregon Honors Top Forest Operators
During an early January ceremony, the Oregon State Board of Forestry honored recipients of its 2021 Forest Operators of the Year awards. This year's winners are: NW Region—Aaron Silbernagel, All-Around Logging, Stayton, Ore.; SW Region—Wally Plikat, Plikat Logging, Winston, Ore.; and East Region—Tony Hauth, H Timber Contracting, Hines, Ore.
All-Around Logging was cited for its work in helping landowners recover from disastrous wildfires in fall 2020. Plikat Logging's work on a tough tract that included powerline, highway and waterway issues helped win the award; and Tony Hauth's innovative work with log handling and crossings to protect a sensitive stream won his company the award.
Regional Forest Practices committees select the operators of the year and associated merit award recipients from among nominees sent in by landowners, ODF staff and others. The award recognizes forest operators who, while harvesting timber or doing other forestry work, protect natural resources at a level that goes above and beyond requirements of the Oregon Forest Practices Act. That law requires people to manage forests responsibly and protect streams and water quality, protect and enhance habitat, and reduce landslide risks. The law also requires landowners to replant forests after harvesting.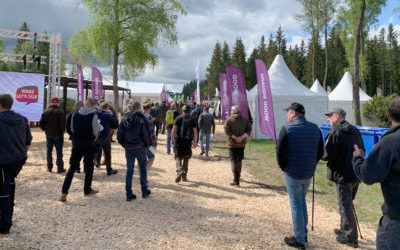 Elmia Wood 2022 was held in the forest of Bratteborg, outside Jönköping, Sweden June 2-4, 2022—the first event in nearly five years thanks to the global pandemic. Nearly 26,000 visitors walked through the show site, featuring over 270 exhibitors from 22 different countries…
read more
Spanning seven decades since its inception in 1952, Timber Harvesting highlights innovative and successful logging operations across the U.S. and around the world. Timber Harvesting also emphasizes new technology and provides the best marketing vehicle for the industry's suppliers to reach the largest number of loggers in North America and beyond.