Sierra Pacific Industries' Tomascheski Plans Retirement
Sierra Pacific Industries' long-time Vice President of Resources, Dan Tomascheski, is retiring at the end of 2023. His 45-year career at Sierra Pacific includes his role as the forestry program's chief steward since 1990. He has been the leader in the growth and sustainable management of the largest privately-owned timberland holdings in the U.S.
"It is with mixed emotions that we share the news of Dan Tomascheski's plans to retire," says SPI President Emeritus Red Emmerson. "Dan's accomplishments and contributions to the company are beyond measure. We appreciate Dan's work to build a top-notch leadership team in the Forestry Division that will keep our forests thriving and a steady supply of logs to the mills for years to come."
"It is equally important to recognize Dan's influence and leadership beyond Sierra Pacific," adds SPI CEO Mark Emmerson. "Dan has been instrumental in shaping how federal and state policymakers view the positive aspects of our industry and private forest ownership. He built valuable relationships and is a trusted advocate for the right ways to sustainably manage our shared forest resources. The positive impacts of his work extend to the entire industry and our public forests."
Tomascheski joined Sierra Pacific in 1978 as a timber cruiser for U.S. Forest Service timber sales in northern California. In subsequent years he held other positions including Quincy-area forester and timberlands manager. In his roles as timberlands manager and Vice President of Resources, he has overseen the expansion of SPI's forest ownership from 135,000 acres in California to more than 2.4 million acres across the West Coast. In his retirement, he will continue to provide a valued role to the company's forestry program as a strategic advisor.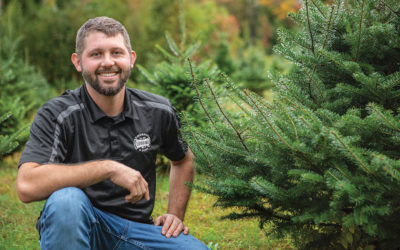 Zach Emerson, co-owner of Emerson & Sons Logging of Groton, Vt., always wanted to grow Christmas trees. Then in 2016, he learned he and his wife, Tracy, were expecting their first child, a daughter to be named Riley. "So that spring I decided it would be a great time to plant some bare-root balsam fir trees," he remembers…
read more
Spanning seven decades since its inception in 1952, Timber Harvesting highlights innovative and successful logging operations across the U.S. and around the world. Timber Harvesting also emphasizes new technology and provides the best marketing vehicle for the industry's suppliers to reach the largest number of loggers in North America and beyond.