Tackling Terrain, Industry Issues
Article by Dan Shell, Managing Editor, Timber Harvesting November/December 2019
This month's "My Take" covers two areas: Loggers taking on steep slope work and also rolling up their sleeves and doing the dirty work in state houses, hearings, meetings and more to build a better business environment for the timber harvesting industry.
Checking in with Bruce Skurdahl, co-owner of Summit Attachments, the leader in steep slope tethering systems, he notes that he continues to see more loggers finding more ways to use tethering systems in their operations, and he's seeing contractors start to buy their second systems in some cases.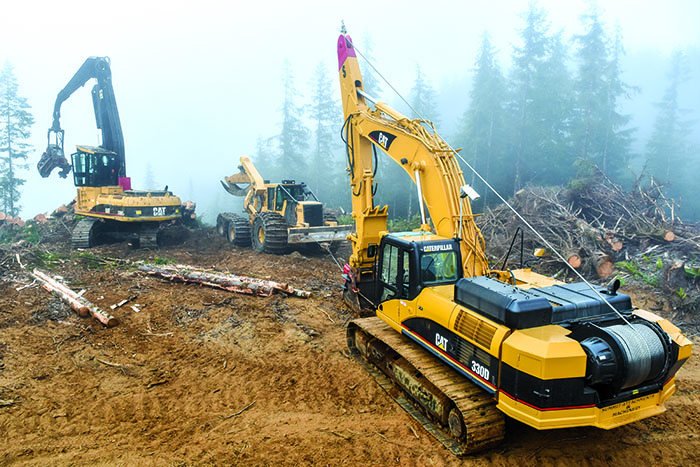 He's also a member of Oregon's OR-OSHA safety committee that has developed interim rules for tethering systems and requires contractors to file six-month reports on basic operating info plus any incidents or accidents. According to data gathered under the OR-OSHA program, the systems remain remarkably safe, with only a few minor accidents—nothing catastrophic—and more importantly, no major injuries.
Skurdahl notes that while up-front investment in a two-machine system can be steep, the operating efficiencies and impacts on labor issues are making a compelling case for investing in one. Insurance costs alone for having employees working on the ground setting chokers, chasing landings and manual cutting run $20-$30 per hour, in addition to actual wages. Meanwhile, insurance for an employee in an operator's cab runs as low as $4/hour.
Mechanized falling adds value in increased production for traditional cable crews and much better and productive choker-setting conditions. There's also potential for hydraulic grapple carriages and related systems to greatly reduce labor requirements in the brush and on the landing.
Skurdahl says that while he can talk for hours about tethering benefits—and he can—a typical logger can "Stand and watch for five or 10 minutes and quickly understand the system and if it makes sense for their operation."
He says one customer told him that on a steep slope, in the middle of winter, "A tethering system makes a machine perform like it's the middle of summer." And that's one way to beat the winter blues.
Loggers Making Impact
One of the neatest things about the ALC is the way loggers from across the country, with their own issues in their own backyards, come together as one national voice.
The state associations make up the whole, and it's great to see loggers from around the country working together. At the annual meeting, there's so much information, one of the things overlooked many times are the state reports on accomplishments throughout the year.
Giving recognition to loggers and association executives and the work they do for the industry, here's an abridged roundup of items from the ALC "State of the States" report:
Arkansas—At the end of summer Arkansas Timber Producers Assn. honored longtime ATPA Director of Logger Training George Lease who retired after 24 years with the organization. Lease oversaw the delivery of hundreds of workshops and worked with volunteers across the state, as well as with state agencies in Arkansas and related agencies in Oklahoma, Texas and Missouri. He designed training worksshops and developed partnerships with In-Woods Safety, Advanced Logger Rescue and Team Safe Trucking programs. He was also part of two national awards given by the Forest Resources Assn. for best logger training program. Lease is being replaced by Arnold Hameister, who spent 37 years with the Arkansas Forestry Commission before joining ATPA.
California—California loggers hosted two visits of congress members to logging jobs in late summer. This included the two chairs of the Western Senate Caucus and Western Congressional Caucus, plus congressmen from Arizona, Arkansas and California. Jim Hubbard, USDA Undersecretary of Natural Resources, also attended. The groups toured Associated California Loggers board member Jeff Holland's logging job where they saw timber harvesting, thinning, biomass collection and wildfire prevention activities close to homes along the wildland-urban interface.
Great Lakes—According to Henry Schienbeck, Executive Director of Great Lakes Timber Professionals Assn., membership remains stable: "As with many organizations some folks retire, and others move on to different opportunities." Regardless, GLTPA officials are excited about the number of first-time members joining the cause of forest management. The Wisconsin Legislature voted to move the DNR Forestry headquarters to Rhinelander, Wis. four years ago, a move strongly supported by GLTPA since it brings forestry leadership in better contact with forest users and the forest industry. The move was recently completed, and GLTPA had the opportunity to supply the new headquarters board room with a wood conference table.
Idaho—In a continued partnership with the State Logging Safety division, Associated Logging Contractors-Idaho trained over 2,000 loggers in annual first aid and logging safety classes, says Exec. Dir. Shawn Keough. "Our Idaho Pro-Logger program has over 250 companies accredited. And, our association membership is growing with a complete regain of pre-recession numbers," she said, adding that ALC-Idaho's affiliated workers comp insurance company (owned by the loggers who own the policies), insurance agency, and safety consulting company continue to provide a foundation of value to logger members and the ability to keep the doors of the association open.
Louisiana—This year, the 25-year-old Louisiana Loggers Assn. reorganized and redirected its purpose. Toni McAllister was named executive director and 11 board members were added (17 total.) An advisory board was created with timber owners, insurance agents, foresters, fuel distributors and other loggers. According to McAllister, "We hit the ground running this session! With loggers struggling to survive this insurance crisis, representation at the capital was vital." A Political Action Committee was put into place called the LoggersPAC and Cary Koch of Roedel Parsons and Koch lobbying firm was brought on board. The LLA was able to form many friendships and allies with legislators and other associations in Baton Rouge during this session.
Among several pro-timber pieces of legislation LLA supported and saw passed,  one amendment added a permit that would allow for a 10% variance ( up to 90,860 lbs) for log trucks equipped with onboard scales.
The LLA is seeking to improve a business environment that has seen 25% of log haulers leave the business and only three insurers for trucks left in the state. "We are meeting candidates and offering our support with hopes that these new legislators will aid in tort reform and a more inviting place to work," McAllister says. "(Representing) the largest agricultural crop in Louisiana, the LLA is going to continue on our course to educate our state on how crucial the Louisiana Loggers are!"
Maine—In the spring of 2019, Professional Logging Contractors of Maine (PLC) provided Safety Trainings at a record 13 locations across the state and set a new record for companies and employees served. PLC also continued its successful new Fleet Trainings at four locations. According to Exec. Dir. Dana Doran, PLC brought Safety Trainings to 109 companies and 709 employees. Fleet Training served 36 companies and 247 employees.
In June 2019, the PLC, in collaboration with the Maine Community College System, kicked off the third year of its Mechanized Logging Operations Program (MLOP) in Stratton, Maine. The hands-on program was created thanks to a partnership between three Maine community colleges, the PLC and industry partners. Through early fall the program was on track to graduate a record 15 highly trained students, including two female students—all with job offers in the industry prior to graduation.
Michigan—The big news is Michigan Assn. of Timbermen (MAT) hired new Exec. Dir. Denise Pallarito, who has a state and congressional legislative background. At press time, 15 new loggers had applied to the Master Logger program, and Michigan's SFI-IC Logger Education program continues to train 1,200-1,500 loggers a year.   Team Safe Trucking program presented information regarding Truck Safety at four locations involving more than 70 members.
MAT wrote a letter of support for the mass timber research project grant for Michigan Technological University. Michigan State University is currently building a mass timber welcome center in the Upper Peninsula.
Minnesota—The Associated Contract Loggers & Truckers of Minnesota has seen a 10% membership increase, up to 220 companies. The ACLT remains at the forefront of issues challenging and threatening the timber industry in Minnesota. In order to better facilitate and represent the association in St. Paul, the ACLT retained a lobbying firm. This representation and effort resulted in re-establishing a 5% weight tolerance that had been eliminated, forcing log trucks to run lighter. Additionally, through this and other resources, the ACLT was able to get millions of dollars of MNDNR timber permits extended, saving what would have been over $1 million in forfeited security and down payments.
Missouri—The Missouri Logging Council (MLC) has assumed more of an active role in the Missouri Master Logger program. The includes reviewing rules, helping locate prospective Master Loggers, and supporting the efforts of the Missouri Forest Products Assn. (MFPA) that coordinates the program. The MLC is also adding more active roles in the MFPA Logging School, and the State Logging Championship.
Montana—TheMontana Logging Assn. is embracing social media with an Instagram account and increased Facebook activity and an updated web site that hosts several operator training videos.
Oregon—While Associated Oregon Loggers celebrated its 50th anniversary this year, AOL also went back to basics, says ALC Board member and Oregon logger Bruce Zuber: "We also raised the bar this year relative to providing supervisor training for our members. We experienced an unusual number of serious accidents last year and felt it would be prudent to increase the frequency and intensity of training opportunities for our member's key supervisory employees. While we hold an annual safety conference every November, we are in the process of holding several regional supervisor training sessions throughout the state. They have been well attended."
Washington—The Washington Contract Loggers Assn. continues its Washington Logger Safety Initiative that began in 2013, and reports a 20% reduction in workers' comp base rates for manual logging since 2014. Participants in the Logger Safety Initiative program can save an additional 20%. WCLA awarded 17 scholarships for the 2019-2020 school year.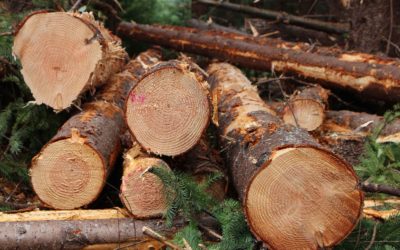 A southwest Washington logger must serve 60 days home detention and repay more than $163,000 after he admitted stealing workers' comp benefits from the Washington State Department of Labor & Industries (L&I), which administers the state workers' comp system, from January 2018 to January 2020. James Thomasson claimed injuries from working in the woods led to disabilities that affected his ability to work, and a medical provider said he was eligible for lost wages payments…
read more
Spanning seven decades since its inception in 1952, Timber Harvesting highlights innovative and successful logging operations across the U.S. and around the world. Timber Harvesting also emphasizes new technology and provides the best marketing vehicle for the industry's suppliers to reach the largest number of loggers in North America and beyond.