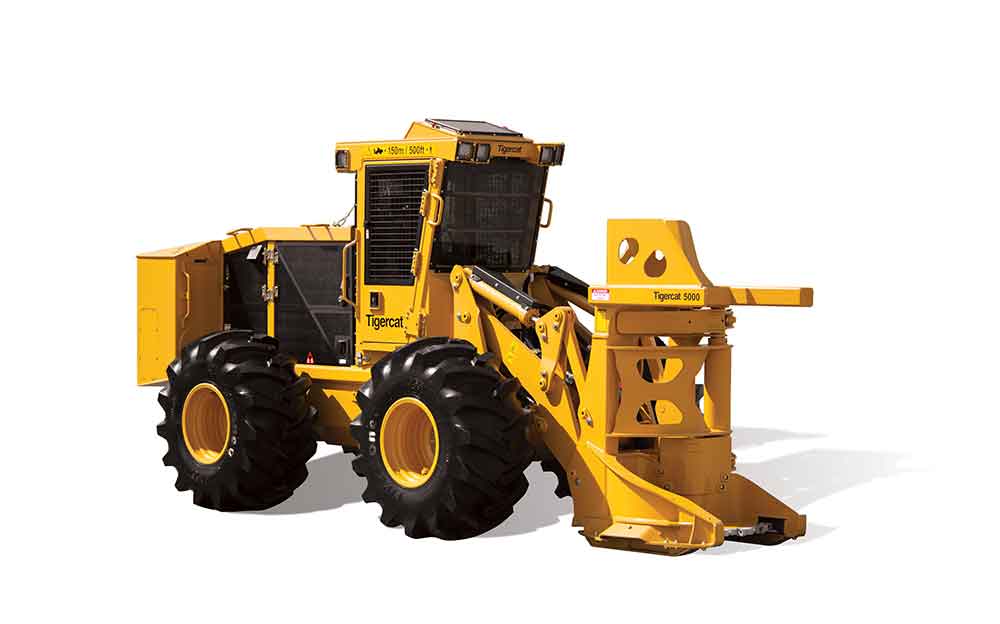 Tigercat recently completed its drive-to-tree feller-buncher lineup with the release of the 718G. One of the last Tigercat machines to receive a Tigercat FPT Tier 4 engine, it was a challenge to package the additional after treatment componentry required for Tier 4 compliance, while still retaining the nimble size of the thinning machine. The designers have succeeded, incorporating all of the features of the larger G-series family members, as well as additional enhancements, while maintaining the approximate size of the previous E-series machine.
The 718G gets its power from the Tigercat FPT N45 Tier 4f engine which provides 170 HP at 2,200 rpm. The completely redesigned engine compartment allows for a high capacity cross-flow cooling setup with a hydraulic driven, automatic variable speed fan and an automatic reversing cycle. The new compartmentalized layout keeps the cooling system, hydraulic components, and engine in three separate areas.
The new accumulation mode allows the operator to choose between normal and auto-accumulate for bunching head arm operation. Simultaneous open and close of the clamp and accumulator arms can also be programmed on a joystick button. A saw interrupt trigger on the joystick turns off saw power temporarily when extra horsepower is required. This is particularly useful in hilly terrain once the saw head is full and the operator is backing up to dump the accumulated bunch.
The G-series cab is quiet and well-equipped and affords excellent visibility. LED lights improve reliability and brightness. A more even light pattern provides better coverage around the machine. The front window area is nearly 10% larger. The rear quarter windows are over 20% larger improving the view over the back tires—an asset in thinning applications.
Additional new features include a rear camera system, programmable joystick buttons, electric hydraulic fill pump, and ground-level fueling. Enhanced differential lock controls are timed to turn off after a pre-set duration to save axle wear.