Weyerhaeuser Partnership Focuses On Firefighter Mental Health
Weyerhaeuser Co. and Firefighter Behavioral Health Alliance (FBHA) announced an expanded partnership on Fighting Fires Together, a campaign that provides support for wildland firefighters and their families. In its second year, the program is designed to provide resources and increase awareness around the importance of mental health assistance for these first responders.
"After launching last year's inaugural Fighting Fires Together campaign with FBHA, we are proud to continue this effort to support wildland firefighters and their mental health as they risk their lives to protect our communities," says Bill Frings, vice president of Western Timberlands for Weyerhaeuser. "Weyerhaeuser's approach to wildfire preparedness, prevention and mitigation is a year-round strategy, and part of this work includes ensuring wildland firefighters have access to the resources they need to carry out this important work."
The expanded Fighting Fires Together online resource hub contains content specially designed for wildland firefighters, including new videos on the topics of post traumatic stress disorder (PTSD), depression, anxiety and suicide prevention, along with mental health tips, educational articles and contacts for occupationally aware support groups and counselors located in Oregon, Washington and British Columbia.
Weyerhaeuser and FBHA launched the campaign in May to commemorate Mental Health Awareness Month and Wildfire Awareness Month. This partnership serves as an extension of FBHA's mission to collaborate, develop and implement behavioral health awareness, prevention, intervention and post-crisis strategies to provide wildland firefighters with an easily accessible and confidential source of information.

"Through this important partnership with Weyerhaeuser, wildland firefighters can access our workshops designed by first responders for first responders, self-assessments that serve as a suicide screening for firefighters, and a directory of mental health professionals," says Jeff Dill, founder of FBHA. "Last year's campaign not only helped wildland firefighters access mental health information, but it also provided a like-minded community for families to find strength and support. We look forward to continuing this partnership to provide specialized education and critical resources for our communities' heroes."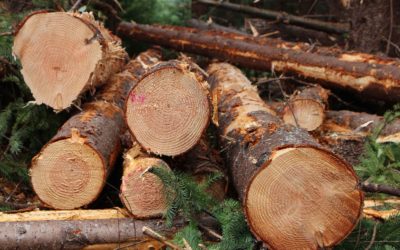 West Fraser Timber Co. Ltd. and Atlas Holdings have announced the signing of a definitive agreement for the sale of West Fraser's Quesnel River Pulp mill in Quesnel, British Columbia and its Slave Lake Pulp mill in Slave Lake, Alberta to Atlas. Atlas owns and operates several pulp, paper and wood products businesses in Canada and the U.S. The agreement includes related woodlands operations and timber holdings in Alberta and a long-term fiber supply agreement for the Quesnel facility…
read more
Spanning seven decades since its inception in 1952, Timber Harvesting highlights innovative and successful logging operations across the U.S. and around the world. Timber Harvesting also emphasizes new technology and provides the best marketing vehicle for the industry's suppliers to reach the largest number of loggers in North America and beyond.