DEMO International Postpones Another Two Years
DEMO International, one of North America's largest outdoor forestry equipment shows, has postponed its fall 2022 show another two years. The highly anticipated in-woods show, originally scheduled for fall 2020, is now planning for a 2024 event.
"As disappointing that this decision is, this deferral will put the show back on track with its typical four-year cycle and will provide time for the global economy and supply chains to recover," show organizers said in an email to exhibitors. Preparations for the show site at SBC Cedar (SBC) in Gatineau, Que., were 75% complete when DEMO was originally postponed in 2020. The event was postponed again in 2021, but organizers say this year's date was still too ambitious.
"…the collateral impacts of the pandemic over the last 20 months continues to raise concerns with respect to international travel restrictions, interruptions to the supply chain, impacting availability of raw materials, production, inventory levels and delivery timelines. Despite their best intentions, these challenges have made it extremely difficult for many manufacturers to maintain their participation in the 2022 show," the email details.
DEMO International draws a large international crowd in addition to the Canadian contingent. Organizers said the 2024 date will likely see safer and more predictable travel conditions for all visitors and exhibitors. Show organizers are investigating new 2024 dates for the event, still set to take place at SBC Cedar.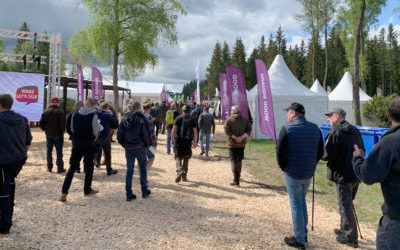 Elmia Wood 2022 was held in the forest of Bratteborg, outside Jönköping, Sweden June 2-4, 2022—the first event in nearly five years thanks to the global pandemic. Nearly 26,000 visitors walked through the show site, featuring over 270 exhibitors from 22 different countries…
read more
Spanning seven decades since its inception in 1952, Timber Harvesting highlights innovative and successful logging operations across the U.S. and around the world. Timber Harvesting also emphasizes new technology and provides the best marketing vehicle for the industry's suppliers to reach the largest number of loggers in North America and beyond.