New From Komatsu: XT-5 Tracked Harvesters
To harvest trees in tight, dense and rugged-terrain forests, operators need machines with maneuverability, power, versatility and reliability. With Komatsu's XT-5 tracked harvesters, operators can harvest closer to the carrier and maneuver confidently thanks to a lower center of gravity and off-set boom.
Made to perform in demanding conditions, Komatsu's XT-5 closed loop tracked harvesters enable operators to simultaneously travel, cut, delimb, harvest and swing timber. Engineered with hydraulic lines for each function, operators can use tracks, boom, arm and tools concurrently.
The benefits of the XT-5 tracked harvesters include significantly greater lift capacity, 10% more horsepower, 16% more torque, 5% lower fuel consumption, with excellent uptime and serviceability.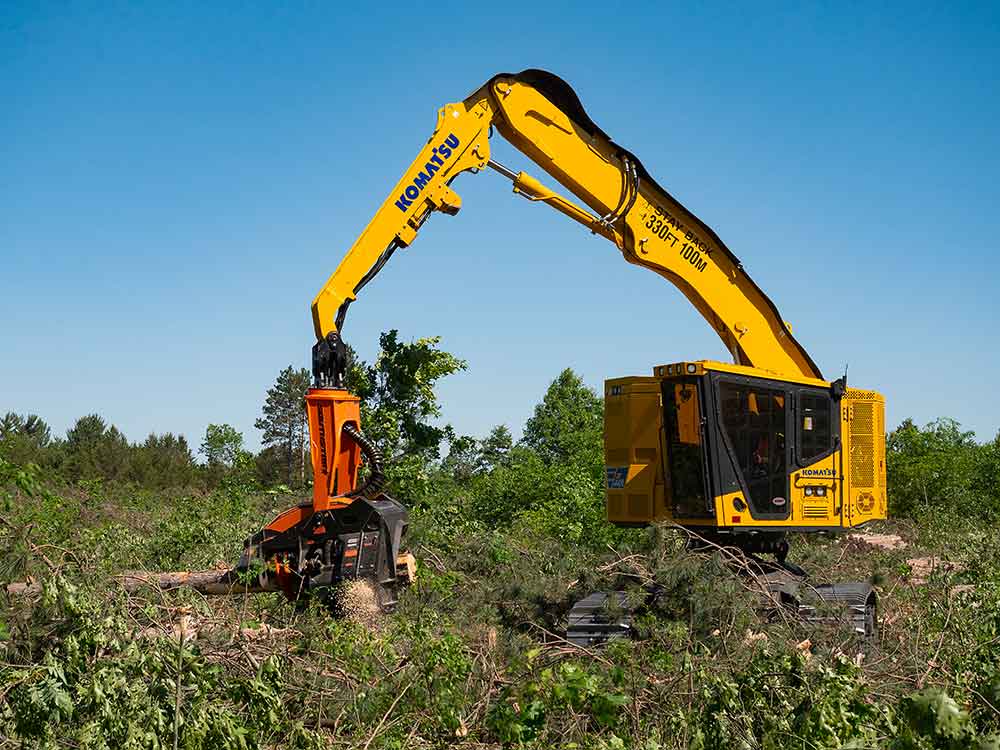 The short-tail swing of Komatsu's 331 HP harvesters lets operators work through dense forests and clear-cutting environments. The set-back boom allows cutting close to the undercarriage and tracks, while the powerful swing torque excels in demanding applications.
Designed to significantly increase lift capacity, handling trees with the arm fully extended is made easier. With an excellent balance between boom lift and arm holding capacity, the XT-5 harvesters can be equipped with a wide selection of harvesting saw heads.
The harvesters can be adapted to the job with two different working ranges. Use the short reach and larger-scaled head to harvest larger trees or switch to a longer reach and more compact designed head to grab trees further from the carrier.
Even on sloped terrains operators can work with confidence. The XT455L-5 is equipped with a heavy-duty, four-way leveling system that promotes front/rear/side leveling for exceptional stability. The fuel tank placement lowers the center of gravity for enhanced stability.
With the XT-5 harvesters, you can save on maintenance costs because the innovative hydraulic tank system design requires 55% less hydraulic oil. Pumps are equipped with hydro-nucleation to help prevent pump cavitation, and are 17% larger to help extend component life by operating 500 rpms slower. The engine gull-wing and wide swing-out doors on the XT-5 harvesters offer quick and easy access to all engine service points and all key components.
Visit komatsu.com.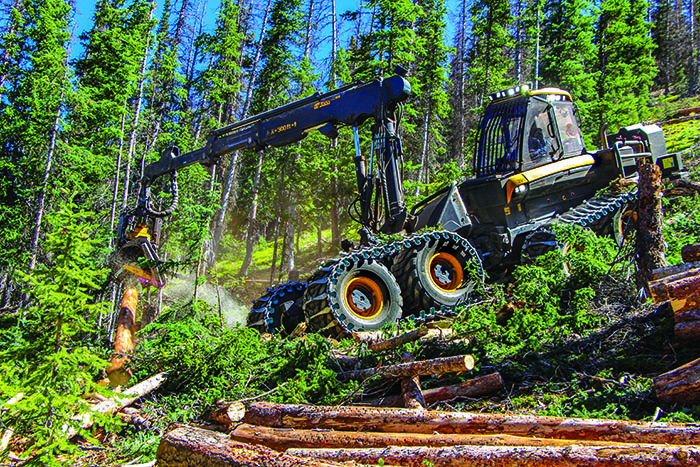 The new ERP solution has already been successfully implemented in Ponsse's Swedish and Norwegian subsidiaries. Particular attention has been paid to the user experience, and all functions can be used anywhere in the world, with any device. The new ERP solution is being used for a number of things, such as material and stock management, procurement, sales, deliveries, field work control and maintenance, invoicing, and financial management and reporting. The ERP solution will also be used for aftersales processes, such as spare parts sales and maintenance…
read more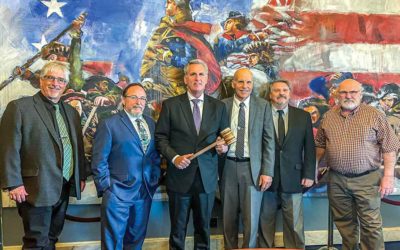 While pulling together and working on this issue, which includes contributions from Associated Oregon Loggers Safety Manager David Grim and Ray Higgins of the Minnesota Timber Producers Assn., it hit me how many good people there are across the country and in this industry working to improve the prospects of logging contractors. Then I saw the news item about Idaho loggers visiting their state capital, and the new American Loggers Council "As We See It" came in that detailed the recent Fly-In to work with…
read more
Spanning seven decades since its inception in 1952, Timber Harvesting highlights innovative and successful logging operations across the U.S. and around the world. Timber Harvesting also emphasizes new technology and provides the best marketing vehicle for the industry's suppliers to reach the largest number of loggers in North America and beyond.