Montana Steep Slope Logging
LIBBY, Montana – CRD Timber and Logging
KALISPELL, Montana – Gall Logging, Inc.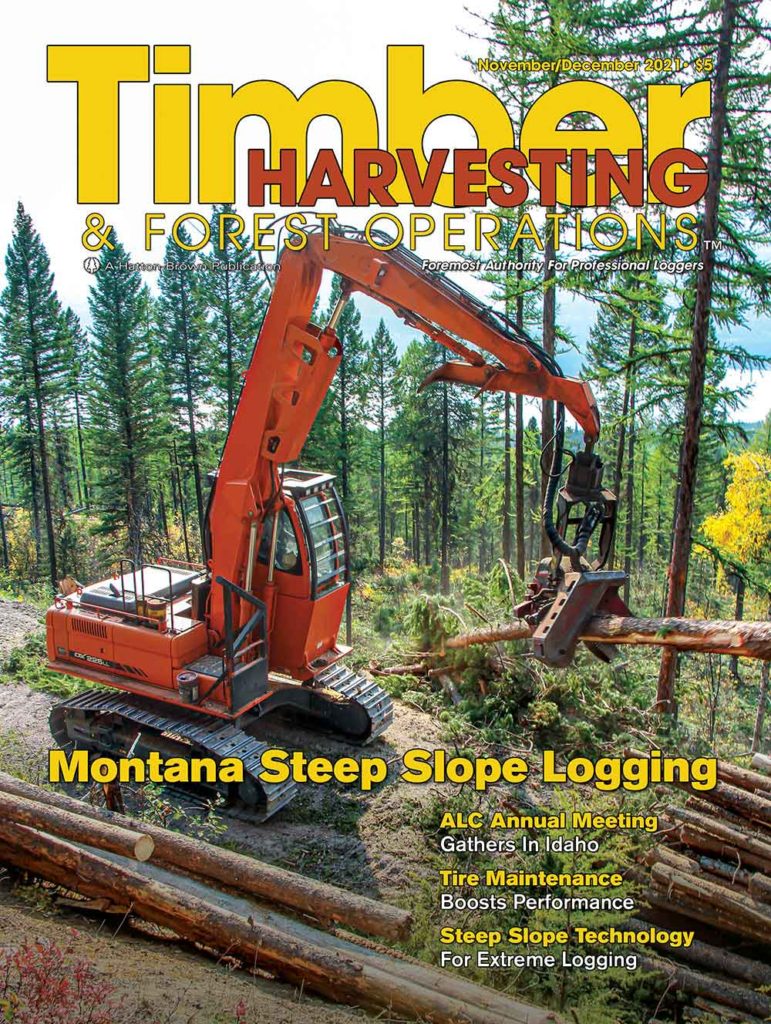 COVER STORY
Montana Steep Slope Logging
MY TAKE: ALC Meeting Touts Group's Growing Impact
COEUR d'ALENE, Idaho – Please read complete coverage on the 2021 ALC meeting beginning on page 14 (Timber Harvesting Nov/Dec 2021), but a few notes are in order here as the organization shifts gears with new leadership and an office presence in Washington, DC. The organization has truly come a long way. Though a bit sobered by the challenges that face the logging industry, those in attendance definitely enjoyed the first face-to-face fellowship, networking and information-sharing event in more than two years.
Article by Dan Shell, Managing Editor, Timber Harvesting
NEWSLINES
Judge Halts Montana Lolo NF Project, Citing Elk
Conservation Fund Purchases 70,000 Wisconsin Acres
Scotch Plywood Focuses On Waynesboro Rebuild
GP Sells OSB Mill To West Fraser Timber
Package Deal Buys SDS Mills, Timberland
Forest Service Says 4FRI Is Still Alive
West Fraser Purchases New SYP Sawmill
TST Builds On Trucking Safety
COEUR d'ALENE, Idaho – Holding its annual meeting a day before the American Loggers Council meeting began at the Coeur d'Alene Resort in Idaho, TeamSafe Trucking (TST) officials noted loggers have lots of support materials available, and they need to promote their safety programs to insurance companies, mills, safety agencies.
ALC Returns, Marks New Leadership
COEUR d'ALENE, Idaho – When members of the American Loggers Council met for the organization's 25th anniversary in September 2019, no one at the time knew that it would be two years before the group would have its annual meeting in person again. Due to the pandemic, the 2020 meeting, which would have taken place in Branson, Missouri, the home state of then-President Shannon Jarvis, was held virtually instead in September 2020. At that time, ALC's board voted for all officers elected in 2020 to serve two-year terms and for the annual meeting to take place in Branson in 2022, at which time new officers will be elected. This decision was reaffirmed in the 2021 meeting.
Article by David Abbott, Senior Associate Editor, and Dan Shell, Managing Editor, Timber Harvesting
Logger Events
Logging shows have returned this year after taking a 2020 year off due to the pandemic, and two recent events, the Mid-South Forestry Equipment Show in Mississippi and the Lake States Logging Congress and Equipment Expo in Michigan held earlier this fall featured good crowds.
LESS DOWNTIME, MORE PRODUCTION
AURORA, West Virginia – Almost 20 years ago, Butch Wolford, 40, established Wolford Trucking LLC in 2003 with his brother Scott, and in 2004 added Wolford Bros. Logging & Excavating LLC, both in Rowlesburg. From a young age, Wolford admits he never wanted to work for another man, so he started contract hauling logs at 19 years old.
Article by Patrick Dunning, Associate Editor, Timber Harvesting
STEEP SLOPE SYSTEMS
Falcon Forestry Equipment
Forest Chain Delivers Traction, Protection
KMC Kootrac 3600
Maxam: Handling All Conditions
Olofsfors: Traction Track Specialists
Ponsse Expands Harvestable Steep Slope Areas
Tigercat Track, Tire Machines Handle It All
TIRE CARE MAKES BIG DIFFERENCE
Forestry tires are a big investment for logging operators, and in a business where small increases in efficiency can add up to the difference between profit and loss, it is important to take care of your tires.
Submitted by Maxam Tire.
EQUIPMENT WORLD
Platinum Equity Acquires Oregon Tool
Barko Teams Up With Stearns Bank
Bandit Announces More Expansion Plans
Maverick Environmental Reps For Morbark
John Deere, Hitachi End Joint Venture
Hyundai Purchases Doosan Infracore
INNOVATION WAY
New F-Bs, Harvesters
John Deere Harvester Heads
Tigercat 880E Logger
SELECT CUTS
As We (ALC) See It
Westervelt Expands Timberland Holdings
Roseburg Continues Growth In The South
New Gasification Plant Picks California Site
Lussier New TeamSafe Trucking President
Montana Steep Slope Logging
CRD Timber: Line Logging Specialist
Articles by David Abbott, Senior Associate Editor, Timber Harvesting
LIBBY, Montana – The owners of CRD Timber and Logging, a specialist in high elevation line logging, has contracted for F.H. Stoltze Land & Lumber Co., a dimension lumber mill based in Columbia Falls, since the Decker family migrated to this area in 1983. "We are the primary line logger for Stoltze," says Russ Decker, 56, who manages CRD's daily operation. Both companies trace their business roots back a century or more; Stoltze marked its 100th anniversary in 2012, and CRD has had five consecutive generations of Decker men in the timber industry (represented in Russ' sons Tyson (T.C.), 31, and Cody, 25).
The CRD name comes from the initials of its owner, Charles Russell Decker, Russ Decker's father. Charles also helped found the Rocky Mountain Elk Foundation, a conservation-minded hunting organization devoted to improving and preserving habitat for future generations.
Gall Logging: Swing Yarding Steep Terrain
KALISPELL, Montana – About 120 miles south of CRD Timber's operations near Kalispell, Timber Harvesting found Gall Logging, Inc., working way up on a mountainside overlooking Superior, a little town an hour northwest of Missoula. That's where owner Jake Gall, 38, and his crew were working.
TRL (Thompson River Lumber), a dimension lumber operation in Thompson Falls, Montana, is the primary mill for which Gall works. Thompson River buys the timber and he contracts with them. "TRL has been wonderful," Gall says. "I have worked for them since we started eight years ago and they have been great."
Spanning seven decades since its inception in 1952, Timber Harvesting highlights innovative and successful logging operations across the U.S. and around the world. Timber Harvesting also emphasizes new technology and provides the best marketing vehicle for the industry's suppliers to reach the largest number of loggers in North America and beyond.