Ponsse Modernizes ERP Solution
The new ERP solution has already been successfully implemented in Ponsse's Swedish and Norwegian subsidiaries. Particular attention has been paid to the user experience, and all functions can be used anywhere in the world, with any device. The new ERP solution is being used for a number of things, such as material and stock management, procurement, sales, deliveries, field work control and maintenance, invoicing, and financial management and reporting. The ERP solution will also be used for aftersales processes, such as spare parts sales and maintenance.
"With the new solution, we have streamlined our customer service in Sweden and Norway and made the day-to-day work of Ponsse people more efficient and easier. The new solution will enable continuous improvement and gives us greater transparency throughout Ponsse's operations—which in turn helps us to serve our customers better in the future," says Miika Soininen, Chief Digital Officer at Ponsse.
Following a thorough selection process, Ponsse chose Microsoft Dynamics 365 complemented by the Annata 365 designed for the manufacturing and distribution industry of vehicles and heavy machinery. The solution will be delivered to Ponsse by Fellowmind, which has plenty of experience in ERP solutions for the manufacturing industry.
With the Dynamics 365 Finance and Supply Chain Management solution, Ponsse can manage the entire production and the life cycles of products and services with a single digital platform. The Annata 365 industry solution based on the Dynamics 365 environment also enables Ponsse to have a structured process for registering and monitoring all asset items with a serial number throughout the products' life cycles. The solution also supports all aftermarket processes, such as warranty management, maintenance agreements, and spare parts management.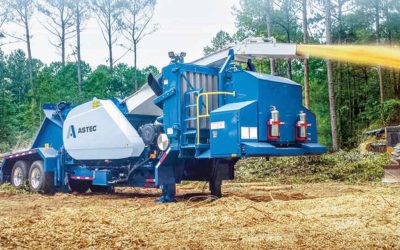 Astec has announced Bejac Corp., a heavy equipment dealer with 10 locations, will represent the Peterson line of forestry and environmental recycling equipment in California and Arizona. Bejac, founded in 1953 operated as an underground pipeline contracting business until 1985 when the company pivoted to the heavy, specialty equipment sector. In 2008, Bejac rapidly expanded its product line offerings and now focuses on a diversified customer base that complements Astec growth strategy…
read more
Spanning seven decades since its inception in 1952, Timber Harvesting highlights innovative and successful logging operations across the U.S. and around the world. Timber Harvesting also emphasizes new technology and provides the best marketing vehicle for the industry's suppliers to reach the largest number of loggers in North America and beyond.