University of Idaho Launches New Degree Program
The University of Idaho is working with Idaho loggers to help develop forest industry employees by offering a new two-year degree program: an associates degree in Forest Operations and Technology. According to Idaho Forest Products Commission Director Jennifer Okerlund, offering the degree responds to forest industry officials in the state and provides a direct route to employment for those who are interested in the industry.
"This is not a foresters degree. This is a degree to train individuals that are interested in going out and working in the forest operations sector on logging operations," says University of Idaho Forest, Rangeland and Fire Sciences Department head Charles Goebel. "We really have a social contract with the citizens of the state to provide access to high quality and affordable education." Required classes include an introduction to forest management and digital forestry technologies, which also includes logging safety, forest operations, cable systems and forest surveying and mapping.
In a local KTVB7 news segment, Idaho logger Gerry Ikola, TH 2017 Logging Business of the Year owner, said his employees are in their mid 50s, and he's wondering who he'll find to replace them with. The news spot mentioned state research showing Idaho lumber sales are growing faster than loggers can produce. "So, our industry is now faced with 'How are we gonna meet that demand of wood over the next 20 years?'" Ikola said.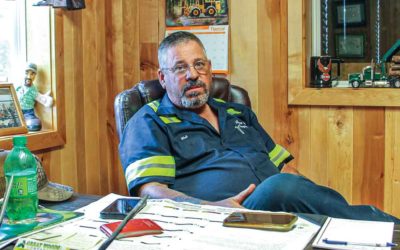 One of the things I most look forward to each year, working on Timber Harvesting, is the Logging Business of the Year award. From reading all the nominations of worthy candidates, to being a member of the voting committee where we each present our case for our given candidate, to helping Managing Editor Dan Shell get the notification letter printed the right side up on TH letterhead (the Baby Boomer to Millennial joke writes itself here…)—I just…
read more
Spanning seven decades since its inception in 1952, Timber Harvesting highlights innovative and successful logging operations across the U.S. and around the world. Timber Harvesting also emphasizes new technology and provides the best marketing vehicle for the industry's suppliers to reach the largest number of loggers in North America and beyond.