JOHN DAY, Oregon – Forest health issues continue to dominate the concerns of Western U.S. forest managers, especially on huge expanses of public lands that are in dire need of management activities that reduce the potential for disastrous wildfires.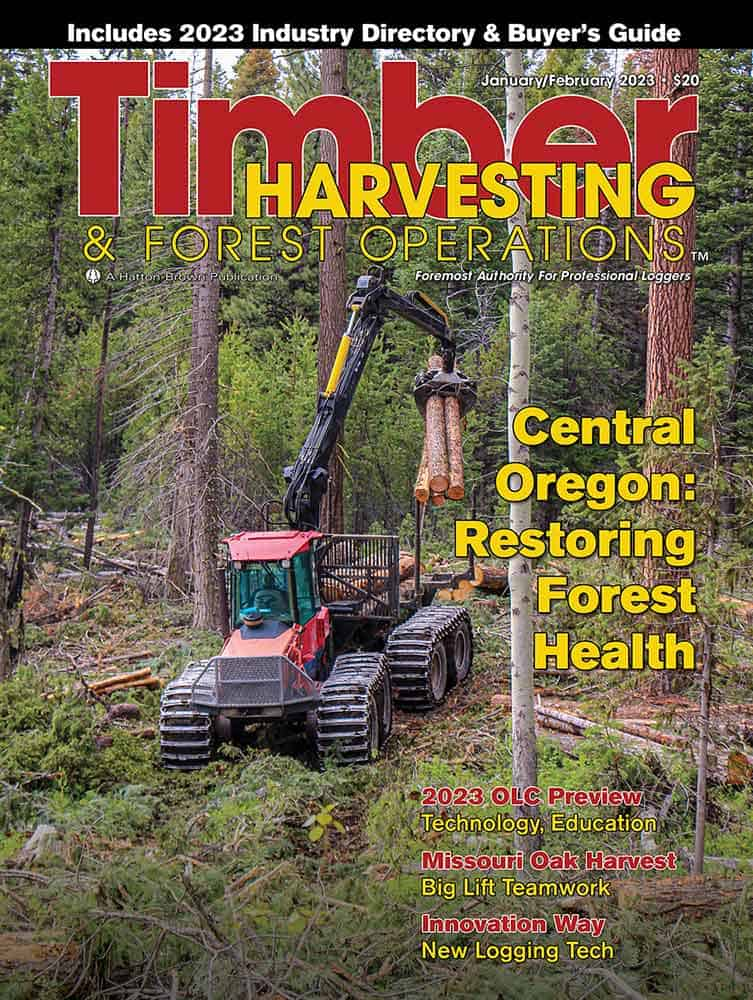 COVER STORY
Central Oregon: Restoring Forest Health
NEWSLINES
Pellet Mills Project Finds Footing In California

Drax Announces Aliceville Expansion

Northeast Texas Receives Heavy Timber Damage

California Forest Health Project Moves Forward
OLC 2023: Big Show, Healthy Forest Focus
Loggers across the Pacific Northwest and much farther beyond are gearing up for the 85th Oregon Logging Conference February 23-25 at the Lane Event Center and Fairgrounds in Eugene, Oregon. This year's theme, "Green Trees Matter. Healthy Forests = Healthy Future," continues to emphasize the important role that forest management plays in overall forest health and wildfire reduction strategies.
Loggers Fighting Fire
When wildfires rage across the landscape it takes a village of resources to help protect lives, property and our environment. Timber harvesting companies have been providing heavy equipment on wildfires across the U.S. These types of resources have become an integral part of assisting in wildfire suppression efforts across the country. Utilizing logging equipment with experienced operators increases operational safety and reduces the suppression costs of a fire.
Debbie Miley has been Executive Director for the National Wildfire Suppression Association (NWSA) since 1991.
Big Tree Teamwork
CAMERON, Missouri – Running two crews and working mostly private timberland tackling a variety of terrain and timber, Mark Dotson, 59, the owner of Tri Rivers Enterprise, works primarily for private landowners. However, last fall Timber Harvesting found Tri Rivers working in a suburban city park in downtown Harrisonville, a suburb of Kansas City. This bid job, with timber marked by private forestry consultants, was full of large walnut trees, and a few oaks. One oak in particular presented an intriguing logistical challenge.
Article by David Abbott, Senior Associate Editor, Timber Harvesting
INNOVATION WAY
Vulcan On-Board Scales

New Olofsfors Profile, Tool

Komatsu Tracked Harvester

Waratah Celebrates 50 Years
2023 Industry Directory & Buyer's Guide
PRODUCTS/SERVICES/SUPPLIES/TRADE GROUPS/EVENTS
SELECT CUTS
As We (ALC) See It: Logging Workforce Development

Oregon Dishes Out Timber Revenues
Central Oregon: Restoring Forest Health
Articles by Dan Shell, Managing Editor, Timber Harvesting
JOHN DAY, Oregon – Forest health issues continue to dominate the concerns of Western U.S. forest managers, especially on huge expanses of public lands that are in dire need of management activities that reduce the potential for disastrous wildfires. With huge backlogs of forest health projects and traditional funding sources running thin, stewardship contracts offer national forest managers the opportunity to integrate revenue-producing timber harvests with landscape-scale forest health and restoration activities and accomplish goals that benefit a variety of forest interests and stakeholders.
The story of central Oregon's largest stewardship contract on the Malheur National Forest surrounding John Day starts with forest health issues: Two key groups, the Blue Mountain Forest Partnership and Harney County Restoration Collaborative, have worked to bring diverse interests together to address forest health issues and take a more cooperative approach, especially as ongoing drought conditions have persisted and wildfire danger has increased.
The groups' goal was to come up with projects that wouldn't get challenged in court and can actually make a difference on the ground—while also providing a level of commercial timber production. Iron Triangle Logging was an active member of both groups, as were other timber interests in the area, before the news came in 2012 that Malheur Lumber would soon close.
In a little 1,700-person town like John Day, the loss of a major employer like Malheur Lumber—not a large producer by any means but hugely important in such a community—can be an economic death blow. The mill was having trouble recovering from the 2008-2009 overall economic downturn as lumber markets remained sluggish, and few timber sales were moving in regional national forests. When owner John Shelk announced plans to close the mill in late 2012, the collaborative members were able to act in concert with forest officials to develop thinning projects and a logging plan to help sustain the mill.
The groups were also involved in planning as Malheur National Forest personnel developed the 10-year stewardship contract. The contract called for between 180,000 and 500,000 acres of forest health treatments and a potential of up to 500MMBF in timber harvest during the life of the contract.
One big difference is that while on-the-ground decisions and projects are managed by local forest officials, as a federal Integrated Resource Service Contract (IRSC) the fine print in the contract and each task order is managed by personnel in the federal acquisitions management (AQM) office in Wenatchee, Washington.
Spanning seven decades since its inception in 1952, Timber Harvesting highlights innovative and successful logging operations across the U.S. and around the world. Timber Harvesting also emphasizes new technology and provides the best marketing vehicle for the industry's suppliers to reach the largest number of loggers in North America and beyond.