With fuel costs at historic highs this year, there is perhaps no better time to tempt loggers with the prospect of a fully-electric powered forestry machine that requires diesel only to charge the battery—and may eventually not even need that. Such a machine appears to be on the horizon soon.
Promising to "walk the talk" of its commitment to environmental sustainability, Finnish forestry equipment manufacturer Ponsse hosted an online event on August 17 announcing the introduction of a new forestry machine concept, the electric Ponsse EV1. Ponsse has been developing the concept for the last three years with Epec, a Finnish technology company, owned by the Ponsse Group, that specializes in advanced electronics. Juho Nummela, Ponsse's President and CEO, and Jyri Kylä-Kaila, Epec's Managing Director, took the opportunity to discuss the emerging technologies. A recording of the online event is available to watch on Ponsse's YouTube channel.
"Technological development is fast and offers us excellent opportunities to develop our solutions further, even in unexpected directions," Nummela says. "We have worked hard with our technology company Epec to enable this concept. At the same time, both companies have developed their capabilities, and we have gained significant new knowledge during this project. This launch of a new technology concept is a peek into the future and one of the solutions offered by electric powertrains. Sustainable development is a significant future success factor for Ponsse. We want to strongly develop our solutions with Epec. Our strategy reform has been successful at Epec, and we're very happy with Epec's excellent development."
Aiming to lead the way in developing machine technologies for sustainable forestry, Ponsse seeks carbon neutrality in its operations and solutions. This launch of a new technology concept is part of the company's strategy and represents a tangible step toward the goal of carbon neutrality.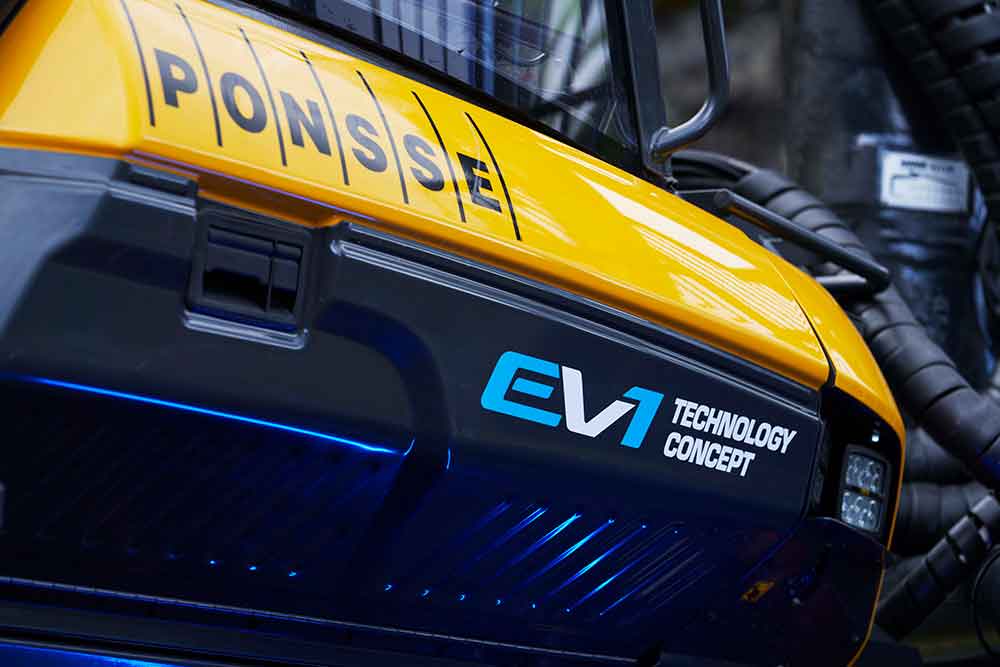 Ponsse has been studying and developing such new technological solutions for several years. The EV1 concept took its first steps in 2019 when Ponsse and Epec started to investigate responsible power source solutions in line with sustainable development.
While Epec's technology can already be used in electric or hybrid-electric commercial vehicles and non-road mobile machines, the EV1 forest machine is still in testing and a few years away from serial production for commercial availability. The prototype machine will be presented at FinnMETKO 2022, a heavy machinery expo held in Finland in early September.
The EV1 concept has been developed for forwarders with a 15-tonne (16.5-ton) load-carrying capacity, the most popular Ponsse forwarder size category. The machine features a fully electric powertrain, as well as Epec's power distribution unit and hybrid control unit. The machine's powertrain operates fully with battery energy. Batteries are charged using a Range Extender, which is a combustion engine at this stage of development. This technology provides significant improvements in fuel economy in this size category.
According to representatives of Epec's engineering team during the online event, the machine is designed to charge while it works, running half the time on the battery alone and half the time with the onboard diesel engine serving as a generator to charge the battery while in operation (it does not require external charging). It reportedly affords equivalent power but with greater fuel efficiency compared with conventional, fully diesel models. The concept features a 700v DC power system, potentially enabling compatibility with other (non-diesel) power sources in the future, such as hydrogen or biogas.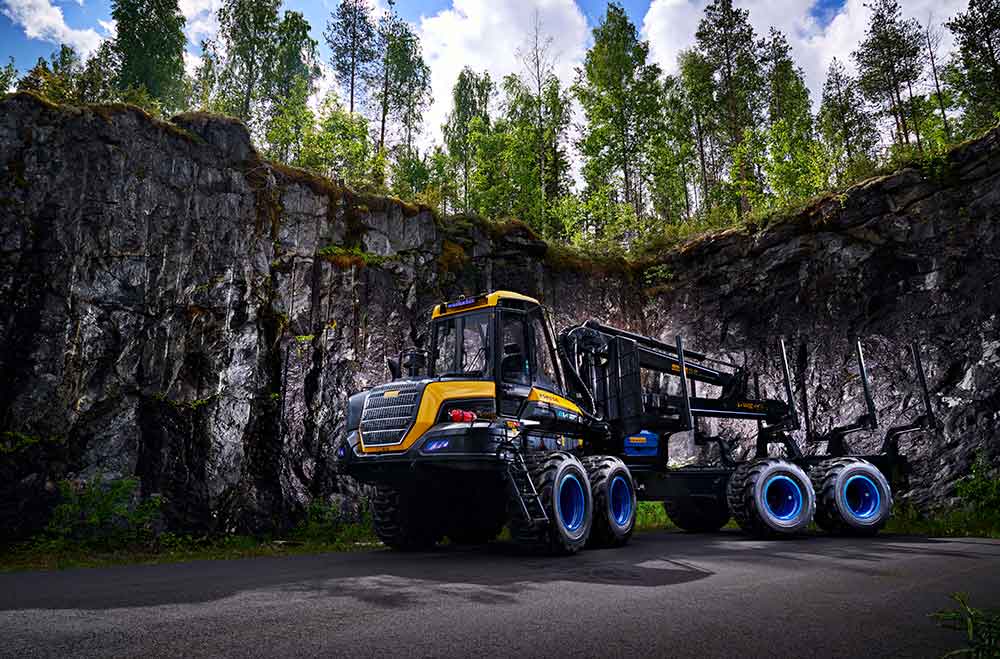 The EV1 features Epec Flow, Epec's electromobility system solution. The solution is based on the Epec Flow Power Distribution Unit (PDU), to which electric motors, batteries and various devices can be connected. The PDU's integrated safety solutions enable effective manufacturing and maintenance of the machines, as well as their operations in demanding conditions. The Epec Flow Hybrid Control Unit (HCU) controls the electric powertrain and includes software developed through simulations, enabling optimal energy consumption, productivity and usability.
"The Epec Flow solution is at the heart of everything," says Epec's Kylä-Kaila. "It has been developed for the electrification of various commercial vehicles and non-road mobile machines. The software can be developed using simulation models, and the solution can be agilely developed for the needs of different machinery. The different systems, including the transmission and control system, work seamlessly together, enabling the manufacture of safe and efficient zero-emission machines in the future."
Ponsse seeks to provide sustainable harvesting solutions by listening closely to customer needs, and as such invited several customers from Uruguay, Sweden and Finland to witness the EV1 in action firsthand. They seemed both surprised and impressed by how advanced and work-ready the concept is. As one customer, Paulo Mancinelli of Suzano, put it, "I think the future is coming shorter and faster than we thought it would be."
Visit ponsse.com or epec.fi/ponsse-ev1/ for more information.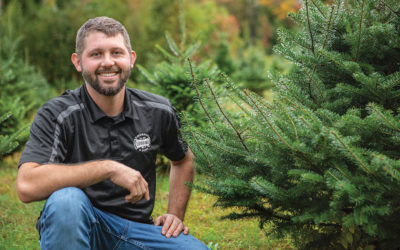 Zach Emerson, co-owner of Emerson & Sons Logging of Groton, Vt., always wanted to grow Christmas trees. Then in 2016, he learned he and his wife, Tracy, were expecting their first child, a daughter to be named Riley. "So that spring I decided it would be a great time to plant some bare-root balsam fir trees," he remembers…
read more
Spanning seven decades since its inception in 1952, Timber Harvesting highlights innovative and successful logging operations across the U.S. and around the world. Timber Harvesting also emphasizes new technology and provides the best marketing vehicle for the industry's suppliers to reach the largest number of loggers in North America and beyond.